Our Customers use TFFIS to:
Monitor production, from the banbury to the final finish department
Verify processes, making sure the right product is processed by the right machine
Communicate changing production conditions to operators, maintenance, truckers, and supervisors
Maintain and view inventory real-time across the enterprise
Implement product traceability
Move actionable data from the production floor to plant and corporate data centers
TFFIS delivers accurate production accounting
Point-of-production and mobile workstations (access points) accept operator / machine input to provide activity and inventory tracking
Count production from equipment controlled by relay logic, PLCs or PCs
Reports deliver accurate reporting of production against designed objectives
Inventory management is an important TFFIS option
Implement raw material or manufactured product inventory in all, or specific, areas of the plant
TFFIS can automatically adjust inventory as product is produced and consumed
TFFIS User Interface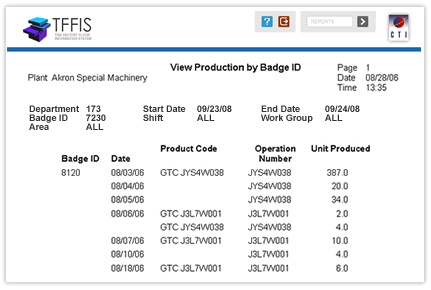 TFFIS delivers accurate production accounting
This example report shows production filtered by a variety of selections (Department, Date, etc.) shown in the heading.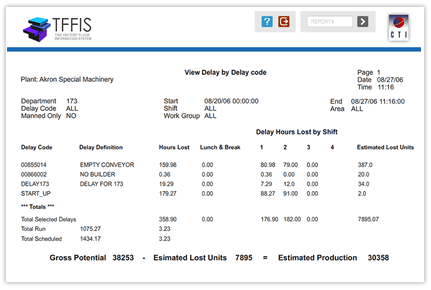 TFFIS delivers delay reporting
Use these reports to identify critical or frequent sources of downtime.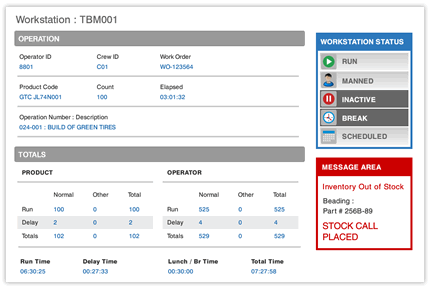 TFFIS delivers better floor communication
Alert supervisors or maintenance about unexpected production delays
Call for stock directly from a product bill of materials
Deliver delay alerts to cell phones, pagers, or email addresses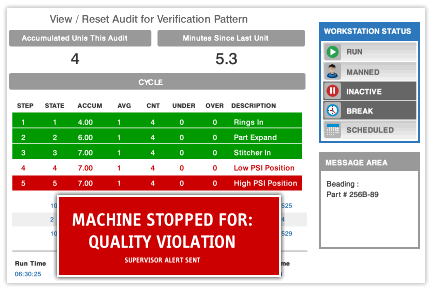 TFFIS can monitor production cycles to deliver quality alerts
TFFIS looks for variance related to production sequence or time
When interfaced to the machine PLC, TFFIS can send a quality alert, or if the variance is severe, immediately stop out-of-spec machine to prevent further production (and waste)
CTI, A POLING GROUP COMPANY
Founded in 1978, CTI has been a valuable resource for large industries. Since 2001, we've expanded the capabilities of Poling Group tire equipment, including uniformity and geometry testing machines.
©2020 Commercial Timesharing, Inc. All Rights Reserved
CTI is a Poling Group company.