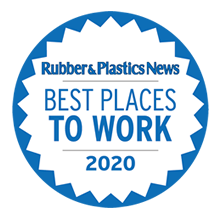 During the midst of the COVID-19 pandemic, CTI was a finalist in Rubber & Plastic News' "Best Places to Work for 2020" program. While we didn't place first when results were announced, CTI is proud to stand out among companies for Employee Satisfaction and Wellness.
While the pandemic made it essential for companies to transfer to remote working solutions, CTI employee productivity remained constant, since working from home has always been an option at CTI, with some employees thriving in that environment for decades. Add to that, great benefits, profit-sharing, compensation for all overtime, and no micro-managing, it's easy to see why CTI employees approach their employment as a career—not as a job.
Click here to read more about why CTI is one of Rubber & Plastics News' Best Places to Work
CTI, A POLING GROUP COMPANY
Founded in 1978, CTI has been a valuable resource for large industries. Since 2001, we've expanded the capabilities of Poling Group tire equipment, including uniformity and geometry testing machines.
©2023 Commercial Timesharing, Inc. All Rights Reserved
CTI is a Poling Group company.