In 1978 David Poling Sr., founder and president of the Poling Group, started his first engineering company, Akron Special Machinery. With determination and innovation, Poling continually guided his company toward the goal of becoming a world class supplier of equipment for the tire industry. After enhancing his company's capabilities by entering the manufacturing field in 1983, Armstrong Tire Company hired ASM to rebuild tire uniformity machines. This opportunity allowed Mr. Poling to sharpen ASM's design expertise and conceive of improvements that could be made to this small, but essential field of machinery production.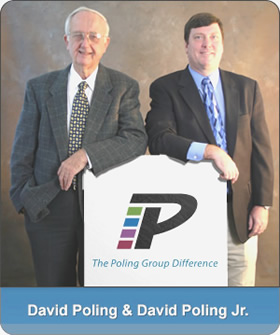 During the Armstrong Tire Company contract Mr. Poling teamed up with MSI (Measurement Systems, Inc.) to provide MSI TUO Controllers on the tire uniformity machines. Later that year, Mr. Poling acquired ASF (Akron Steel Fabricators) to focus on mill room equipment, such as calendering, batch offs, and pressure vessels, which expanded the equipment and services offered to his customers while lowering production costs.
In 2000, Hasbach and Commercial Timesharing, Inc. (CTI) joined forces with ASM to produce the first high-speed uniformity testing machine capable of testing tires in excess of 160 miles per hour. Within the next year Mr. Poling acquired both Hasbach and CTI. Hasbach broadened the ASM tire testing product line with endurance and characteristic machines, while CTI contributed state-of-the-art control systems and tire factory data acquisition/material handling expertise.
In 2001 the new group of companies collaborated to produce and install the X100, the first tire uniformity machine to make use of newly developed X-frame technology. This groundbreaking design distributes the forces on the machine evenly throughout its frame to maintain more accurate, and therefore faster, testing results. Building on the success of the X100, ASM expanded the X Series to include TUO machines in a variety of sizes and with customizable testing capabilities, all taking advantage of the X-frame technology.
In 2003 Mr. Poling acquired Firwood Manufacturing and formed a new entity named Firwood~ASM. Satisfied that his acquisition of six complementary companies could contribute to nearly all major phases of tire manufacturing and testing, Mr. Poling decided to unify the companies under one name: the Poling Group.
Focus
Since its inception, the Poling Group has continued to focus on improvement and innovation. The Poling Group of companies currently holds 33 patents, with 2 pending, for various rubber-related equipment inventions. Shop floor information, product traceability, and final finish software specifically designed for tire manufacturing showcase the Poling Group's determination to use superior technology to help its customers increase machine throughput and optimize product quality. Ultimately, the integration of equipment and software has enabled Mr. Poling to achieve his original goal of becoming a world class supplier to the tire industry.
Looking forward, David Poling, Sr. and Vice President David Poling, Jr. are excited about the opportunity to assist the tire industry in its effort to produce tires with improved fuel mileage, and noiseless tires. The ASM-Hasbach rolling resistance and endurance testing machines are already engineered to meet this need. In addition, the Poling Group has just introduced its newly patented Profile Generating Machine. This machine uses precision grinder units to consistently produce round tires with enhanced uniformity and balance characteristics that deliver a quieter and smoother ride.
CTI, A POLING GROUP COMPANY
Founded in 1978, CTI has been a valuable resource for large industries. Since 2001, we've expanded the capabilities of Poling Group tire equipment, including uniformity and geometry testing machines.
©2023 Commercial Timesharing, Inc. All Rights Reserved
CTI is a Poling Group company.